Enjoy a day with the animals!

Helping owners and their beloved dogs spend a happy life together through our wide variety of services.

Lifelong Care and Services

ANIMAL FUREAI VILLAGE

(Petting Zoo)

Have a wonderful day experiencing our friendly animals
the beautiful scenery.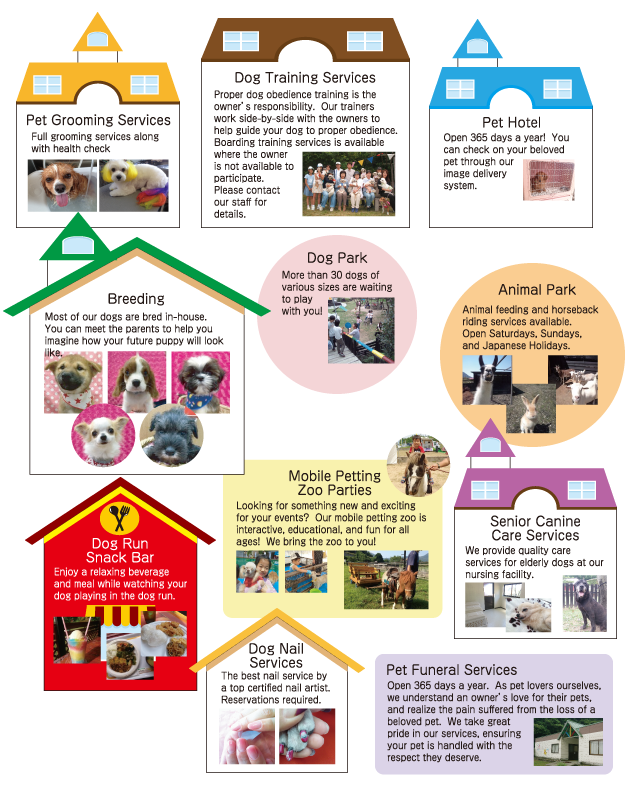 Full grooming services along with health check

Proper dog obedience training is the owner's responsibility.  Our trainers work side-by-side with the owners to help guide your dog to proper obedience.  Boarding training services is available where the owner is not available to participate.  Please contact our staff for details.

Open 365 days a year!  You can check on your beloved pet through our image delivery system. 
Most of our dogs are bred in-house.  You can meet the parents to help you imagine how your future puppy will look like.
More than 30 dogs of various sizes are waiting to play with you!
Animal feeding and horseback riding services available.  Open Saturdays, Sundays,  and Japanese Holidays.
Looking for something new and exciting for your events?  Our mobile petting zoo is interactive, educational, and fun for all ages!  We bring the zoo to you!
We provide quality care services for elderly dogs at our nursing facility.
The best nail service by a top certified nail artist.  Reservations required.
Enjoy a relaxing beverage and meal while watching your dog playing in the dog run.
Open 365 days a year.  As pet lovers ourselves, we understand an owner's love for their pets, and realize the pain suffered from the loss of a beloved pet.  We take great pride in our services, ensuring your pet is handled with the respect they deserve.
Animal Fureai Village
(Petting Zoo)

93-1 Higashi Migama
Suo Oshima-cho
Oshima-gun
Yamaguchi-ken 742-2102
Tel: 0820-74-3474
Fax: 0820-74-5216
Mail: tencho@furemura.jp
Open: Wednesday-Monday, 10:00-18:00
Closed: Tuesday (with the exception of pet hotel services)
Animal park is open Saturdays, Sundays, and Japanese Holidays only.
For Pet Funeral Services, call 0120-127-530 (24 hours a day)